Getting Americans back to work
We need to get our country moving forward immediately. We have no time to waste to build a strong economy and to recover from the devastating last two years.
The actions I voted on will create millions of new jobs and provide more opportunities for families to get back to work by:
Repairing roads and bridges while making them resilient to floods and extreme climate conditions
Investing in job training for industries like emerging technologies, manufacturing, the clean energy economy, and more
Expanding broadband internet access
Helping families with child and home care costs so parents can get back to work
I am committed to doing everything I can to keep jobs here in New Jersey. With these investments, I know the future of our economy is bright.
Honoring our Promise to those that Wear the Uniform
Veterans in Ocean County shared their healthcare struggles with me, so I worked with them and pressed the VA to finally build a new state-of-the-art health clinic in Ocean County.
The largest employer in our district is Joint Base McGuire-Dix-Lakehurst. If this base ever closed, it would be devastating to our community. That's why I am proud to serve on the Armed Services Committee to protect and support the base by bringing it new missions & supporting the military families serving there.
I was proud to stand on the tarmac to witness the arrivals of the new KC-46 Pegasus air refueler. This critical mission will guarantee our base continues to be an economic engine and underscores how crucial the base will continue to be for our nation's most important national security goals for decades to come.
I'll never stop looking out for our veterans, servicemembers, and their families. Those who put their lives on the line for our country deserve our support, and I'm proud to make sure we have their back after they've had ours:
I secured a new, $60 million, state-of-the-art VA health clinic in Toms River
I'm fighting for $500 million in veteran suicide prevention funding
I'm working across the aisle to connect more veterans with jobs once they finish their service
I'm standing up for better health care and legal access for women veterans
I'm leading the effort to protect veterans from debt collection when the VA makes mistakes in billing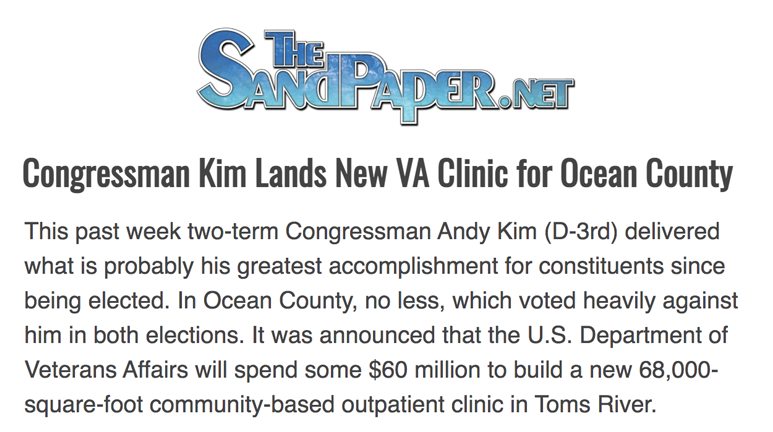 Focusing on our Small Businesses
I'm the only member of Congress in New Jersey on the Small Business Committee. I do this work because New Jersey's small businesses are the backbone of our economy. When we help small businesses, we also help families and communities thrive, and I'm proud to champion policies that keep our economy moving forward:
The bipartisan infrastructure bill creates two million jobs in New Jersey that will create a greener economy, improve transit options, and rebuild roads and bridges
My resilient highways legislation makes sure New Jersey's infrastructure can survive extreme weather
My Put Our Neighbors to Work Act would give local workers and contractors more opportunities to access military construction projects, particularly at our Joint Base
My BUILD Veterans Businesses Act would create new opportunities for veteran-owned small businesses to compete for and win federal contracts
Investing in Our Children
As the son of immigrants, I saw my parents work hard to give me and my sister a better future, and they started by moving to New Jersey because of the top-notch public schools. I'm proud to have done my entire K-12 education in South Jersey and am now sending my two little boys off to school just a few miles away. As a dad, I know firsthand how hard this pandemic has been on working families. That's why I'm doing everything I can to help struggling parents have the tools they need to support their families, get back to work, and secure a brighter future for their children:
There are an estimated 15,000-18,000 kids in Burlington and Ocean counties that go hungry. That's right here in our community. We are better than that. I've sought to find ways to help our kids in our neighborhoods get the foundation they need. The Child Tax Credit has cut child poverty in half. It is a powerful tool that helps invest in the next generation of Americans.
We need strong working families to raise a strong generation of Americans, while also keeping our economy roaring. Millions of Americans, especially women, struggle to find work that allows them to still be there for our kids. Paid family leave and child care are critical tools to helping America get back to work and reach its potential.
I have a 4-year old boy and I can see how critically important early childhood development is. I can see his personality starting to shine through and see him excited yet nervous about the speed of his development. We owe it to our kids and grandkids to give them the best possible early education. High-quality, universal preschool for all 3- to 4-year-olds ensures our children get a head start on the skills they need to succeed at school.
Improving the Health of America
Keeping our families healthy and protecting your healthcare is one of my top priorities. Nobody should have to choose between feeding their families or buying necessary prescription drugs. I ran for Congress to maintain important protections for those with pre-existing conditions and stop efforts to take away healthcare, and I'll never stop fighting to lower prescription drug costs, expand Medicare benefits, and protect the health of our kids and families.
I was proud to be named to the Bipartisan Select Committee on the Coronavirus Crisis in April 2020 – where I demanded answers on our failing PPE supply chains, fought for more testing sites in South Jersey, and pressed for dramatically increased support for our struggling small businesses and our communities.
At the height of the pandemic, my team and I worked hard to help deliver PPE to our disabled neighbors and their caregivers, disinfectant to our first responders, and accurate, up-to-date information to constituents.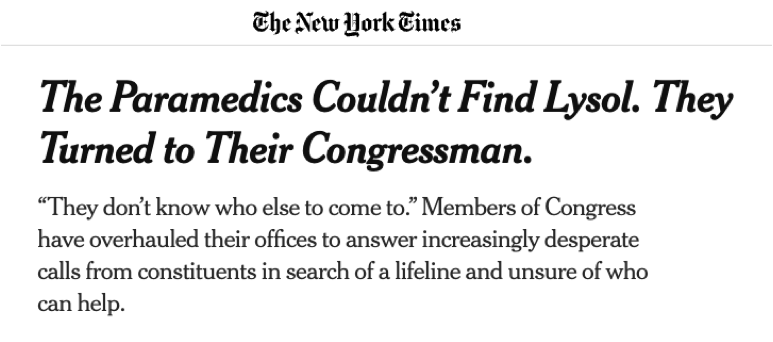 The COVID-19 crisis has shone a bright light on the importance of our nation's health and our public health infrastructure. Seeing the struggle and loss so many families experienced during the pandemic gave me even more resolve to strengthen our healthcare system, and I'm fighting to do just that by:
Finally allowing Medicare to negotiate prescription drug prices, like the VA and DoD already do
Capping out-of-pocket drug costs for seniors at $2,000 per year
Capping the cost of insulin at $35/month
Expanding Medicare benefits to including dental, vision, and hearing
Expanding tax credits to give more people access to affordable health care
Making it easier for seniors and others to stay at home by increasing access to home health care
Protecting Our Homes from Flooding and Climate
Thousands in our community lost their homes to flooding during Superstorm Sandy. But we also have flooding problems on sunny days now. Our shoreline communities in particular are places where New Jersey families go to make memories, and this flooding crisis threatens to change them forever. Working to mitigate these problems doesn't only provide new jobs and opportunities; it keeps communities whole and thriving. While there's more to do, we are making great strides in helping people recover from natural disaster:
I passed legislation to forgive community disaster loan debt and introduced a bill to forgive homeowner debt for businesses and families affected by Superstorm Sandy.
The bipartisan infrastructure law brings huge investments into our community to raise roads and take other steps to secure our communities from flooding.
Tax credits will allow people to weatherize their homes, including installing solar panels.
Promises Kept
One of the most important ways I can represent you is to include you in my work and look for ways to create more opportunities for your voice to be heard. Since the first day I ran for Congress, I have committed to being accountable, accessible, and transparent:
**I hold at least one public town hall every month. To date, I've held over 45 town halls, and hearing your stories has helped me focus on the best ways to help working families in Burlington and Ocean Counties.
I ensure your voice is the one I hear when I cast my votes by refusing corporate PAC contributions.
I publish my daily schedule so you can see that I am working on the challenges you sent me to Washington to solve.
I want to strengthen our democracy by protecting voting rights and championing campaign finance reform. Our democracy works best when we put people, not partisan politics, first.
I listen to you and am here in service to help address your problems with the federal government. I'm proud of my office's track record of constituent service - helping resolve more than 8,000 issues with the federal government and returning more than $10 million hard-earned dollars to the residents of New Jersey's Third District just this year alone.